In product design, the terms user experience (UX) and user interface (UI) are used very often and it's also not uncommon to see them used interchangeably or incorrectly. However, while these two can be similar in some ways, they also play different roles and should be regarded as individual entities rather than interchangeable terms. UI vs UX has been a debate over the years in the tech and design industry, as they were not clearly defined at inception. This article seeks to address what these two terms are, why they are similar, and what differentiates them. 
What is UI Design?
User interface or UI design is what a user interacts with to effectively use a digital product or service. This includes the visual and interactive elements that make up a product interface and a UI designer would consider all the interactions and behaviors a user might take with a product. This will further propel them to design an interface that best adapts to what the user would enjoy using and ensure that the interface has elements that are easy to access. 
UI design creates room for interaction between humans and machines, just as you are reading this article right now. There are different types of UI, including the command-line interface, graphic user interfaces, and voice-enabled user interface. As technology evolved, so also did UI design, from focusing on just computer interfaces to now exploring mobile phones and apps, wearable technology, and smart home devices.
The goal for every UI designer is to make interfaces that will enable users from diverse demographics to interact with technology more effectively. UX Studio further explores some UI design trends in 2021 that are here to stay.
What is UX Design?
User experience or UX design stems from the improvements made to the user interface, as the experiences of users tend to improve based on how they interact with a product. Compared to UI that is an interaction between humans and machines, UX creates an interaction between a product and the person using it. Experiences on products are improved based on how users interact with them, whether positively or negatively.
When creating a product, UX designers consider how it can be useful, desirable, valuable, and accessible to users. In an earlier post, we explored how great UX design can enhance product growth and can be part of your competitive strategy. Forrester Research, in 2016, also suggests that a well-conceived, frictionless UX design could potentially raise customer conversion rates to 400%. As a result, user experience (UX) can be seen as not only a competitive advantage but also as an important contributor to a company's bottom line.
How are UI Design and UX Design Related?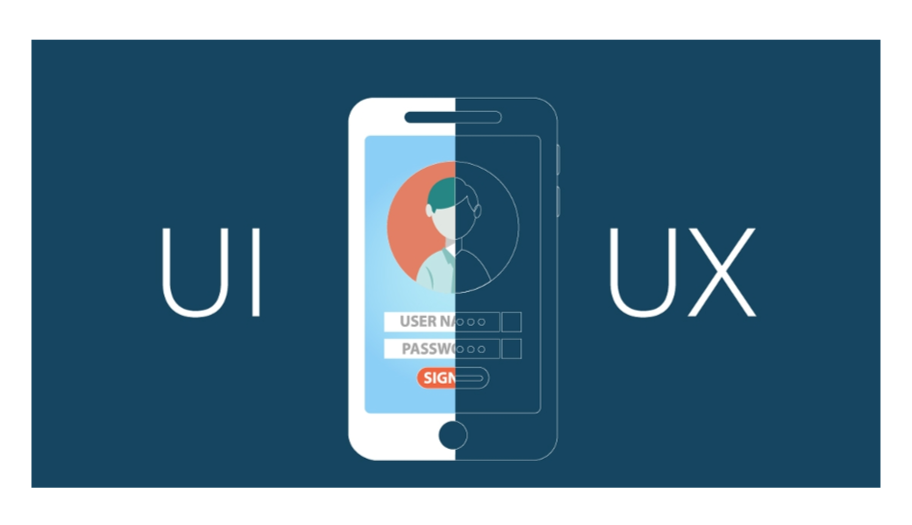 User interface and user experience are quite similar, even from their names, as they both focus on the user. UI design works closely with UX design and together, they conduct user research to create products that users can effectively interact with and provide great feedback. Both fields work hand-in-hand, as you could have a great UI design but without great UX design to support it, the result will be a bad user experience. So, where do we draw the line between these two?
User Experience Vs User Interface
The overview of the difference between UI and UX is that while UI focuses on the interaction between users and the machine, UX focuses on the interaction between the product and the user. To further differentiate both, we'll highlight the responsibilities of a UX designer and a UI designer. 
Responsibilities of a UX Designer
A UX designer works from a human-first perspective and designs products to reflect that. They are constantly involved in the execution of a product, from product research, ideation, prototyping, testing. Some of the responsibilities of a UX designer include the following:
1. Research and Strategy
UX design starts with research where the designer gets to understand the user, including their wants and needs, and how to create a product they would like. The strategy includes user research, understanding the product, creating a plan, and information architecture. 
2. Wireframing and Prototyping
A UX designer creates a user flow that stems from speaking to users to understand their needs and aligning them with the product. They also create the wireframe – the skeleton of an interface and understand how the design will work on a functional level. Then, they test the product with real users and work hand-in-hand with product designers and researchers to make the best of the product. 
Responsibilities of a UI Designer
A UI designer focuses on the visual representation of information, as they create interfaces with a good look and feel. This means a great UI designer must have a good eye for detail and problem-solving skills. Some of the responsibilities of a UI designer include the following:
1. Create the Look and Feel of the Product
A UI designer creates aesthetically pleasing designs that users would love to interact with. This includes conducting design research that helps them understand users and competitors better and also the best design trends to work with. They also design the product layout and the visual elements of the interface, considering important factors such as the colors, fonts, icons, and buttons, among others. Branding is also an important point of consideration, as a UI designer would have to showcase the brand identity as created by the creative team.
2. Work on Responsiveness and Interactivity of the Product
A UI designer creates interfaces that are responsive on all kinds of devices and screen sizes. This means the design must be able to adjust properly when viewed on a desktop, tablet, or a simple mobile device. They also create animations, transitions, and other elements to enable easy and effective user interaction with the interface. In addition, prototypes are created to test the process in real-time.
Why Does UI Vs UX Matter?
These two terms might be related and often overlap but they are not interchangeable and you must perfectly understand the role of each when building a product. We shared earlier on why you should invest in UI/UX product design but beyond that is understanding how they both can benefit your product, whether individually or collectively. 
However, you don't have to go through the hassle of learning each of their roles to know who to bring onboard your team. We have a community of talented software developers at Charisol that can help you with this and you'd see effective results. We've worked on outstanding brands over the years such as MailDrip, Aluuka, KakedBar, and Tishlms, among others. 
Our services span Software designing, App development, Digital Marketing, Social Media Marketing, Content Writing & Marketing, and Search Engine Optimisation.  We will work hand-in-hand with you to ensure you get the best for your website or products, while we create the perfect balance between UI design and UX design. 
You can also follow us on Medium or social media (Facebook, Instagram, Twitter, LinkedIn).