2021 was a time of digital businesses taking over. As lockdown measures continue to be imposed on countries around the world, more businesses relied heavily on their online presence to boost visibility for themselves and reach out to their audience.
The year is coming to an end and it is now quite obvious that any business that wants longevity must position themselves strategically. If you want more visibility, you should take advantage of the digital boom. There are several affordable and accessible ways you can do this for your business:
Active Social Media Presence
It seems everyone is on one social media or another these days. From the formality of LinkedIn to the splashy photos of Instagram. Businesses of all categories are taking part in fun challenges and receiving orders and requests directly via Direct Message.

Image source: Search engine journal
However, a whopping percentage of business owners still do not have any form of social media presence or are not positioning themselves strategically. Here are core things to take into account when venturing into social media for your business:
Use the right platforms – Rather than just jumping on every latest social media trend and platform, it is best you conduct some research to determine what you should actually be using.
Platforms that have proven to be very suitable for business includes Instagram, Facebook and Twitter.

Platforms with high engagement among the younger audience are Tik Tok, Pinterest and Instagram

LinkedIn is an appropriate channel for formal organisations to boost their business profile and awareness.
There are numerous social media platforms out there hence it is important you are using the right ones and getting the perfect content direction to actually help you achieve your goals.
Most social media platforms have also made it quite easy to spend minimal amounts in boosting your posts for a wider reach. They also incorporate proper targeting for your business so you are actually reaching high-converting customers. Facebook ads manager in particular is easy to set up and navigate, you can position your business to a precise geographical location and audience interest at a very affordable cost.
Getting the right social media platform means you are getting the right audience who are likely to buy from you.
An Engaging Website
We are sure you are tired of hearing about the importance of getting a website for your business, we've previously spoken about it here. However, we continue to talk about it because it still remains relevant.
Businesses with websites have a 55% higher conversion rate than businesses without one. Beyond just having a website it is also important that you have a website that is optimised, easy to navigate and pleasant to look at.
Your use of colours, spacing, font, logo etc all matter in this case. There are several tools like WordPress and Wix that let you build a simple website without any coding skills required.
At Charisol, we are expert-level web developers and have worked on several prominent projects for multiple businesses. If you would like to discuss with us the best approach to a website for your business, simply click here.
Google Business Profile
Your Google My Business listing is the first thing customers are likely to come across whenever they Google your business name. It is important you fill your Google business profile as fully and as accurately as possible.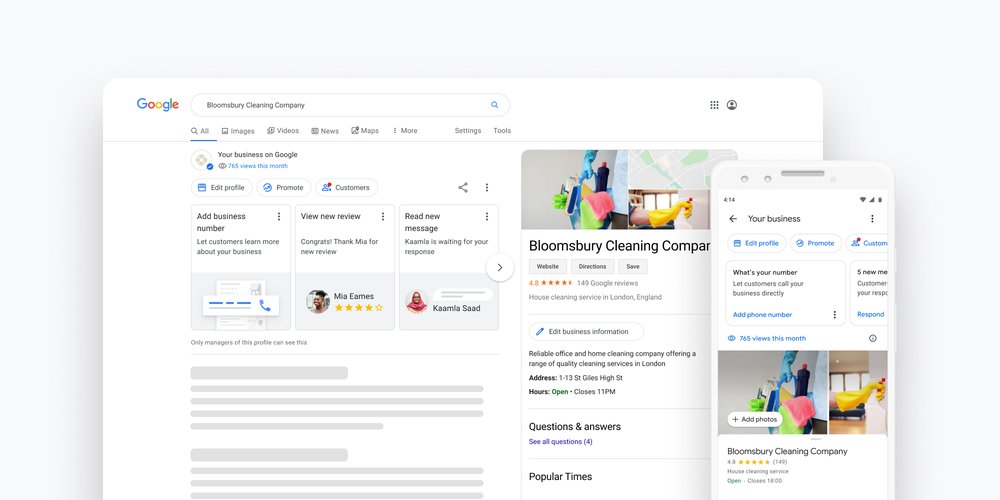 Image source: Google
Google business is very versatile. You can display your menu, contact details, map, and opening hours for anybody who searches your business. It also functions as a great review hosting site as customers can review your business after a confirmed visit.
Listing on Google is completely free and it often serves as a source for other third party listers. This can translate into additional publicity for your business. It is also a great boost to your organic SEO and can help increase clicks to your featured website.
You never know who may be searching for you online so do not hesitate to set up a google business profile as we move into 2022.
It's only a few weeks until the end of the year. Now more than ever, you should be strategizing on how you want to position your business moving forward into the new year. Reach out to us at Charisol to set up a one on one meeting with our brand experts. We can discuss the essential digital products that will be vital for your business in 2022.

We are Charisol, a software development agency with a community of talented software developers that leverage the "work without walls" culture to provide solutions for clients around the world. Our services span Software designing, App development, Digital Marketing, Social Media Marketing, Content Writing & Marketing, and Search Engine Optimisation. Follow us on Medium or on social media (Facebook, Instagram, Twitter, LinkedIn).